Tomato Pie
Sometimes, the simple things in life are the best, just like this tomato pie by the one and only @pizza_jew. A Sicilian base, topped with the most delicious tomato sauce you ever did taste.
Ingredients
555g high gluten or bread flour (32%)
17g compressed yeast (1%) / 5g instant yeast (0.3%)
1L cold water – first water (57%)
Inoculated water - 165g preferment (10%) mixed with 160g water cold water (10%)
Preferment to made from equal parts flour and water and 0.1% yeast and left for 24hrs at room temperature. For example, 82.5g flour / 82.5g water and 0.01g yeast.
800g San Marzano tomatoes
Show more
Step 1:
Pour the first water and yeast into the mixer and mix to dissolve the yeast. Add in the 00 flour and the high gluten flour and mix further for about 5-7 minutes until there is no dry flour visible and allow the dough to rest for 5 to 10 minutes.  
Step 2:
Turn the mixer to high and slowly add in the inoculated water. Gradually add in the salt and sugar, then in the last few minutes of mixing, add the olive oil and mix until the dough is strong and you can create a window pane. 
Step 3:
Allow the dough to relax for 5 minutes before removing the dough from the mixer, place in an oiled bowl and leave in the fridge for 24-48 hours. 
Step 4:
Remove from the fridge and divide the dough into 400g/14 Oz pieces. Place each portioned piece of dough on an oiled tray and cover. Let it relax and room temperature for around 10-15 minutes before pressing it out to the edges of the tray with oil.  Repeat this until the dough has reached the corners of the pan.  Cover and leave to proof for a further 2 hours.  
Step 5:
Set the Dome to around 400°C/700F. Place the pan in the Dome and turn the flame off. Attach the Dome door. After 5 minutes, remove from the oven and turn the flame back on.  Ensure the door is off when a gas flame is present in the oven. 
Step 6:
Create your tomato sauce by combining all the ingredients in a pan, and letting it simmer for 15 minutes.  
Step 7:
Let the par-baked dough cool before adding the sauce. Finish with some more oregano to taste. Place back in the Gozney Dome, turn the flame off and place the door back on. Cook for 5 minutes.  
Step 8:
Serve and enjoy!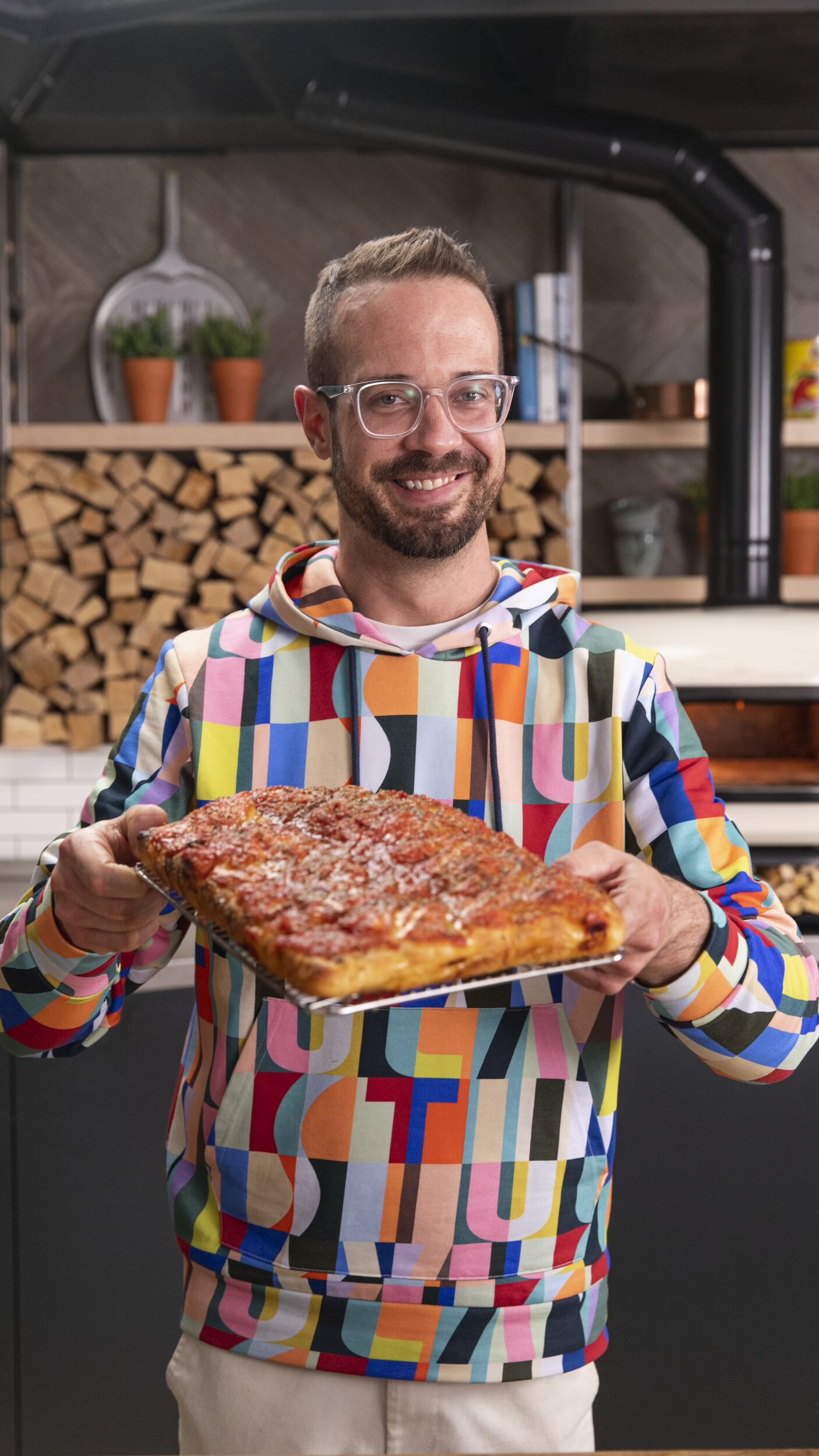 Recipe Contributor
Mike Fitzick
Mike, who runs the show at Bakeria 1010 in New Jersey, is famous for his classic pizza recipes. Square, round, deep pan, Neapolitan – you name it, Mike does it!