Roman Style Pizza
We had the honour of pizza legend @danieleuditi at the Gozney HQ. Chef, presenter, and owner of @PIZZANA, Daniele serves some of the most authentic Italian dishes out of his restaurant. Check out this delicious Roman pizza he created on his visit.  
Ingredients
700 g / 24.7 Oz 00 flour

300 g / 10.6 S semolina Rimacinata
5-6 g / 0.2 Oz fresh yeast

700 g / 24.7 Oz Room Temperature water

35 g / 1.2 Oz fine sea salt

50 g / 1.8 Oz Extra Virgin Olive Oil
80 g/2.8 Oz Fior di Latte

4 basil leaves
30 g/ 1 Oz grated Parmigiano or Pecorino Romano

120 g/ 4.2 Oz lightly crushed, good quality tomatoes
Zucchini e cotto
1 burrata

75 g/ 2.6 Oz Fior di Latte

2 zucchini

4 basil leaves
4 slices of prosciutto cotto di Parma

Fresh mint leaves

Sea salt

Black pepper

Olive Oil
Show more
Step 1:
In a bowl add the flours and mix until combined. 
Step 2:
Add half of the water and the yeast and mix until combined. 
Step 3:
Add the remainder of the water in small parts until it's all absorbed.
Step 4:
Add the olive oil and salt. Mix until the dough is smooth.
Step 5:
Let the dough rest at room temperature for 10 minutes. After this time, mix again to tighten the gluten.
Step 6:
Cover it and let it bulk ferment for 12 hours or overnight in the refrigerator (or leave it at room temperature for 2-3 hours).
Step 7:
Form the dough balls (around 180 grams/6.3 Oz) each and let it proof for 4-6 hours.
Classic Margherita
Step 8:
Roll out the dough until its super thin. Add the tomato sauce across the base, leaving a 1.5cm/0.5 inch gap from the edge.  
Step 9:
Add the fresh basil and the grated Parmigiano, then top with the Fior de Latte.
Step 10:
Place your pizza into the oven at around 400°C/752°F. Cook until golden and crisp. 
Step 11:
Finish with fresh basil leaves and olive oil. Serve and enjoy!
Zucchini e cotto
Step 12:
Peel your zucchini into thin slices. Marinade with olive oil, sea salt, black pepper and fresh mint leaves.
Step 13:
Stretch out your dough ball, so that its long and thin, in the style of a focaccia. Drizzle over some olive oil and poke some holes in the base to allow airflow through the dough.
Step 14:
Add the zucchini to the base and then bake in the your Gozney pizza oven at 350°c/750°F. Once cripsy and cooked, remove.
Step 15:
Slice the pizza and add the ham and tear over the buratta.
Step 16:
Finish with mint leaves, salt, pepper and drizzle over olive oil. Serve and enjoy!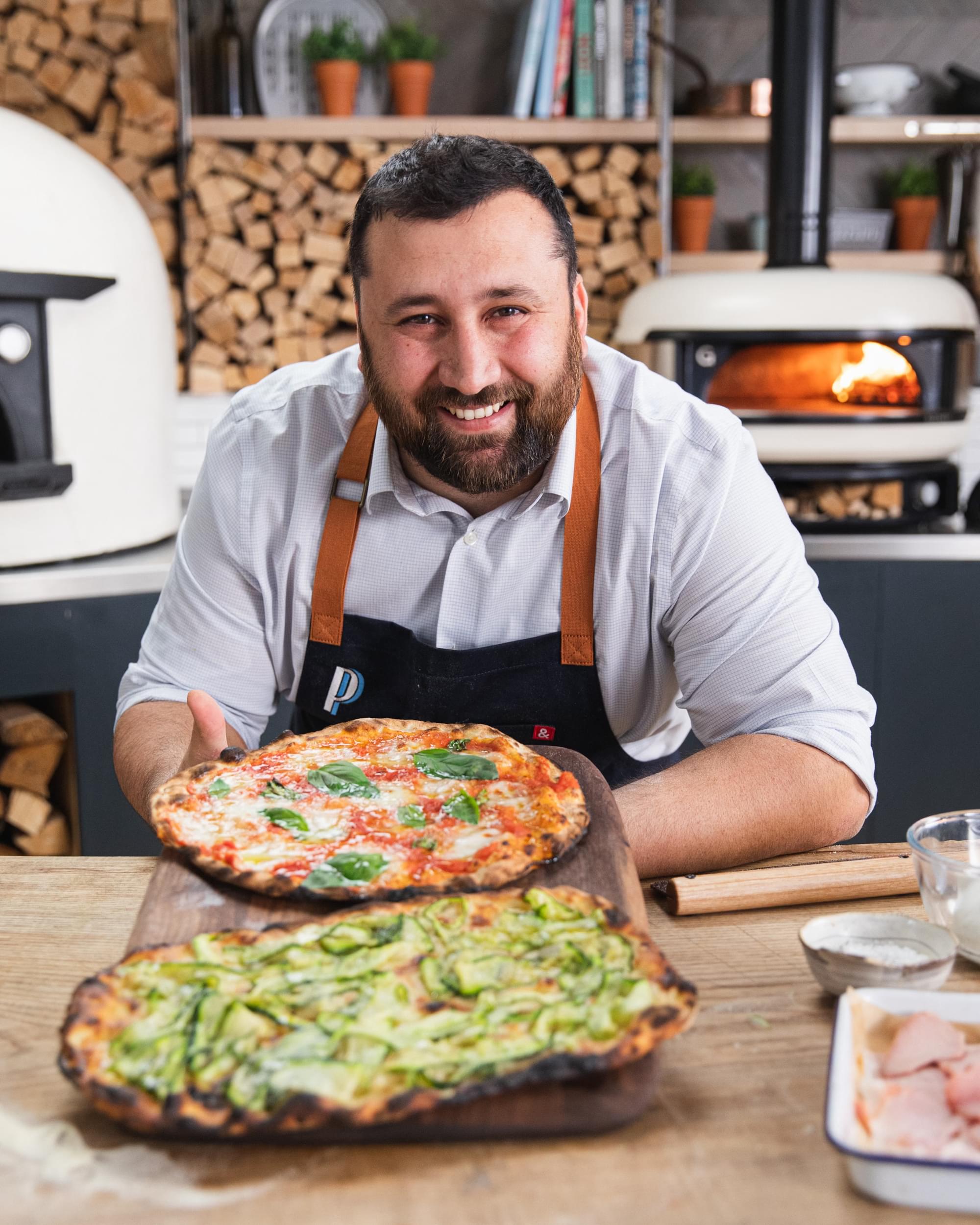 Recipe Contributor
Daniele Uditi
Daniele Uditi is renowned for creating authentic Italian dishes at his restaurant @pizzana. He's also a judge on Hulu's 'Best In Dough' and we're super excited to have him on board as a Gozney Ambassador.