Merry Meatball Pizza Recipe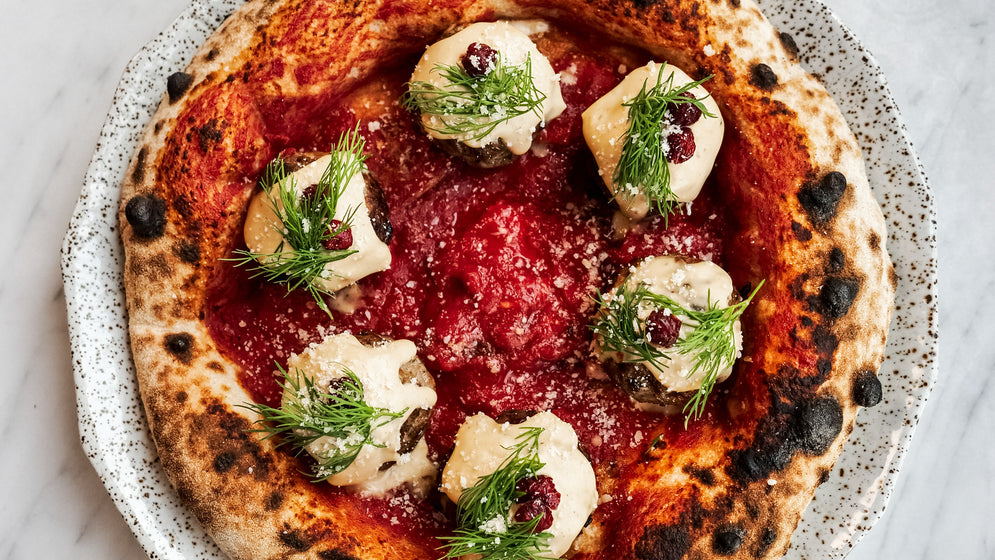 Feng (@leopardcrust) is back with another super creative and insanely festive pizza recipe - the Merry Meatball Pizza!
She has sleighed it once again (see what we did there...), this time with a garlic confit and tomato base finished with meatballs, cream sauce, and topped with cranberries and dill. It's one to impress your guests this holiday season.
Roccbox Link
Roccbox Link 1
Infrared Thermometer Link
Infrared Thermometer Link 1
Get notified when available
Ingredients
1/2 tbsp butter

230g beef mince

2 stalks parsley chopped

Pinch of ground allspice

Pinch of ground nutmeg
¼ onion, finely chopped

Salt

Black pepper

Cream sauce

1 tbsp butter
1 tbsp cup all-purpose flour

Salt

60g heavy cream

Garlic confit

Dill
12 dried cranberries

Grana padano

Pizza dough ball

Tomato sauce

Olive oil
Show more
Step 1:
Mix all the meatball ingredients together in a bowl.
Step 2:
Shape the meatballs into six round golf ball shapes.
Step 3:
Pre heat a pan for about a minute with the oven at 150°C, then add ½ tbsp of butter to the pan and return to the Roccbox to melt until frothy.
Step 4:
Add your six meatballs to the pan and cook in Roccbox at high flame 150°C for 8 mins, flipping every couple of minutes to ensure they are cooked on all sides. Once cooked, transfer the meatballs to plate and set aside.
Step 5:
Prep cranberries by curling them up into balls.
Step 6:
To make the sauce, add the butter to a pan and heat until foamy. Then whisk in the flour until light brown, latte colour.
Step 7:
Leave roux to cool to 79°C for around 5 minutes and then whisk in the cream. Do a drip test to ensure the right consistency.
Step 8:
Next stretch out the pizza dough base.
Step 9:
Add the garlic confit and tomato sauce to the base.
Step 10:
Bake at 450°C in Roccbox, rotating to ensure an even cook on all sides.
Step 11:
Once cooked, drizzle with olive oil.
Step 12:
Place the meatballs onto the pizza base spreading out evenly close to the crust.
Step 13:
Next using a tsp drizzle the cream sauce over the meatballs.
Step 14:
Top the meatballs with dill, cranberries and grana padano snow to create mini Christmas puddings. Slice and enjoy!
Okay, it is time to turn your Gozney pizza oven on and get to work! Why don't you share your Merry Meatball Pizza with us, just use the #gozneykitchen!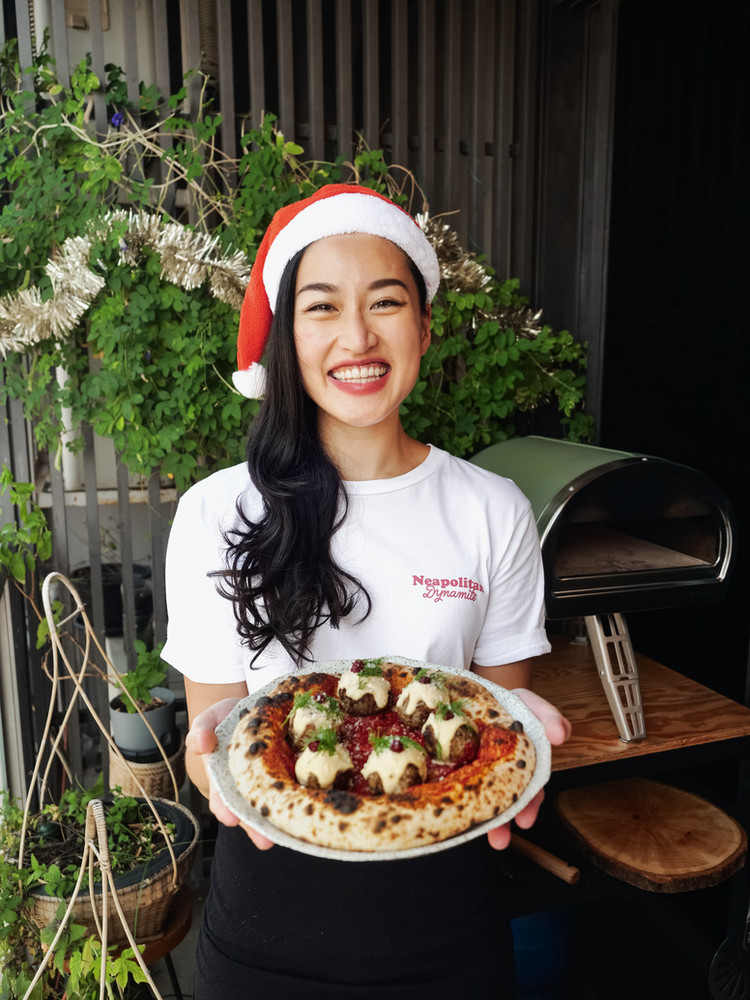 Recipe Contributor
Feng Chen
Feng Chen aka @leopardcrust is the queen of making the most imaginative pizzas, famous for their perfect leopard spotted crusts.