Korean chicken wings
If you're looking for a hit of flavour and a real crowd-pleaser, then look no further than Chef Philli's Korean Chicken Wings.
Sweet, sticky and glazed in goodness, these wings are perfect cooked in Dome or Roccbox, and ever so simple to make.
Ingredients
12 chicken wings

3 tsp Sesame Oil
Pinch salt

3 tbsp gochujang

3 tbsp honey

3 tbsp ketchup

3 tbsp butter
Show more
Step 1:
Preheat the Gozney Dome to around 200°C.
Step 2:
Add salt and sesame oil to the wings and allow to marinate for 20 minutes.
Step 3:
Add the chicken wings to an oven tray or cast-iron pan and roast for 20-30 mins until golden in the Dome.
Step 4:
Heat the gochujang, honey, ketchup, and butter in a pan and melt together until combined.
Step 5:
Add the Gochujang glaze to golden wings to fully coat them with the sauce.
Step 6:
Plate up and finish off with a sprinkling of sesame seeds.
Time to fire up your Gozney Pizza Oven! Oh and don't forget to rate this recipe!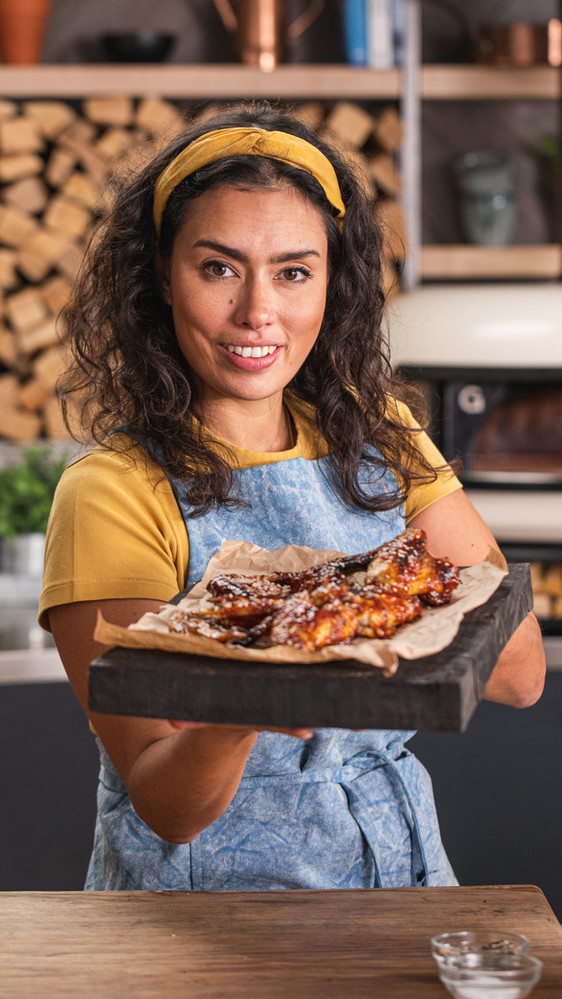 Recipe Contributor
Philli Armitage-Mattin
MasterChef finalist and author Philli's recipes are inspired by her research and travels, bringing you the most incredible Asian flavours cooked with live fire.