Detroit Style Pizza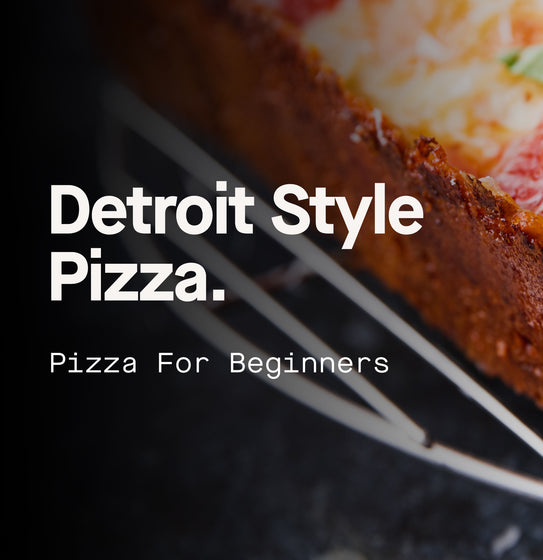 Detroit-style pizza dough by @pizzawithperez. Thick, fluffy and deliciously chewy. If you want to nail your own at home, look no further.
Dome Link
Dome Link 1
Infrared Thermometer Link
Infrared Thermometer Link 1
Get notified when available
Ingredients
•Flour – 900g/31.7 oz. (Bread flour 12.5% Protein)
•Semolina flour –100g/3.5 oz.
•Instant or Active dry yeast –4g/.14 oz.
•Preferment –150g/5.29 oz. (Poolish or Sourdough)
•Ice cold water 700g/24.7 oz. (Divided into 560g/35/105g)
•250-300g/9-10oz shredded aged mozzarella and mild white cheddar (50/50 blend)
•crushed San Marzano or other good quality tomatoes
•Parmigiano Reggiano or Pecorino Romano to garnish
Show more
Detroit Style Pizza Dough
Step 1:
Add all the flour and yeast into the mixer bowl then mix on low for 2 minutes.
Step 2:
Gradually add 560g of water and continue to mix on the lowest speed until it begins to combine.
Step 3:
Once a mass is formed (after about 4-5 minutes of mixing) add the poolish and continue to mix on lowest speed.
Step 4:
Begin to slowly incorporate 35g of water to collect any unmixed flour left in the bowl.
Step 5:
Increase the mixer speed to 50% and add the salt.
Step 6:
Increase the mixer speed to 75% and gradually add in the olive oil.
Step 7:
Increase the mixer speed to 100% and incorporate the final 105g of water. Stop the mixer when the water has been absorbed and the dough is smooth.
Step 8:
Allow the dough to rest for 5 minutes before removing from the mixer. Place into a bowl, cover and refrigerate for 24 hours.
Step 9:
Divide and ball the dough into 325g/11.5 oz balls, place into pans, cover and put back into the fridge for a further 24hrs.
Making & Baking
Step 1:
Coat the pan and dough ball with oil, dimple and stretch the dough working it towards the corners of the pan.
Step 2:
Repeat this method 4-5 times at 20-minute intervals (cover between stretches).
Step 3:
Cover and allow the dough to proof at room temperature until the dough has doubled in volume.
Step 4:
Preheat your Gozney Dome stone to 625°F/330°C. Dimple the dough and place the pan in the oven. Flame off, Dome Rope Sealed Door on.
Step 5:
Bake for 2 minutes, then rotate the pan 180 degrees and bake for a further 2 minutes.
Step 6:
Remove the par-baked dough and rest at room temp.
Step 7:
Top with the cheese blend, place the pizza back into the oven and bake for 4 minutes, flame off and door on. Rotating the pan 180 degrees after 2 minutes.
Step 8:
Rest for 1 minute on a cooling rack, then top with two stripes of cooked tomato sauce, grated Pecorino Romano and torn basil.
Step 9:
Slice into squares and enjoy!
Gozney oven temperature (in °F & °C): 625°F with a low flame (deck temp opposite side of flame) 330°C with a low flame (deck temp opposite side of flame)
Recipe Contributor
Luis Perez
Luis Perez (aka @peelsonwheelspizza) is the founder and pizza king at Peels On Wheels Pizza in Rochester, New York. Luis created Peels On Wheels in the Summer of 2019. Growing up in the South Bronx, pizza was a huge part of daily life for Luis. After a career hiatus from pizza, Luis found himself missing the pizza industry and decided to start his own pizza business.