Chopped Cheese Calzone
Inspired by a trip to New York City, @flamebaster aka Chris Roberts, brings us his take on a Chopped Cheese Calzone. Beefy, cheesy, oozy goodness, this recipe is next-level indulgence.
Dome Mantel Link
Dome Mantel Link 1
Pizza Cutter Link
Pizza Cutter Link 1
Regular price AUD $75.00AUD $60.00
Gozney Placement Peel Link
Gozney Placement Peel Link 1
Regular price AUD $139.00AUD $111.00
Ingredients
3 x Best quality beef patties 225g/8 Oz
Dough balls x 3

Flour

Spice mix (few pinches of whatever spices you like)

Sea salt

White pepper
Worcestershire sauce

100ml / 3.5 fl Oz Beef stock

100g / 3.5 Oz Gruyere 

100g / 3.5 Oz Sharp cheddar

100g Mozzarella / Provolone
1 x Large green pepper

1 x Can of quality tomato sauce 

9 x American cheese slices

1 x Large white onion

Burger sauce (homemade or shop bought) 
1 x jar BIG crunchy gherkins

Your favorite hot sauce
Show more
Step 1:
Pre-heat the Gozney Dome to 400°C/750°F
Step 2:
Begin by placing the peppers in a cast-iron pan and charring / heating them in the Dome until they begin to blacken. Once cooked, remove the peppers from the Dome and the cast-iron, and put them to one side to cool down.
Step 3:
In the same pre-heated cast-iron, place in the beef mince patties, and then pop them into the Dome. Cook and flip until nearly cooked through, before chopping the patties with the back of a utensil. Add the spices of your choice to flavor the meat before placing back into the Dome to caramelize.
Step 4:
Grate or slice all the cheeses and place to one side. Remove the beef from the Dome, and de-glaze the pan with a small amount of beef stock and Worcestershire sauce.
Step 5:
Take the cooled, charred peppers and chop roughly. Add to the beef mix along with all of the cheese. Place back in the oven for a few minutes to help the cheese melt.
Step 6:
Remove the cast-iron from the Dome and place the mixture into a bowl to cool down.
Step 7:
Stretch out a dough ball and add a thin layer of tomato sauce before adding in the chopped cheese mixture. Finish the inside with cheese singles layered over the mixture.
Step 8:
Seal the calzone by folding in half and crimping the edges. Ensure to pierce the top of the calzone with a knife to allow the steam to escape. Take a floured peel, slide the calzone onto the peel, and launch into the oven at around 380°C/720°F.
Step 9:
Cook the calzone until it becomes golden brown all over, then remove from the oven. Serve with raw slices white onion, chopped pickles, burger sauce and hot sauce. Enjoy!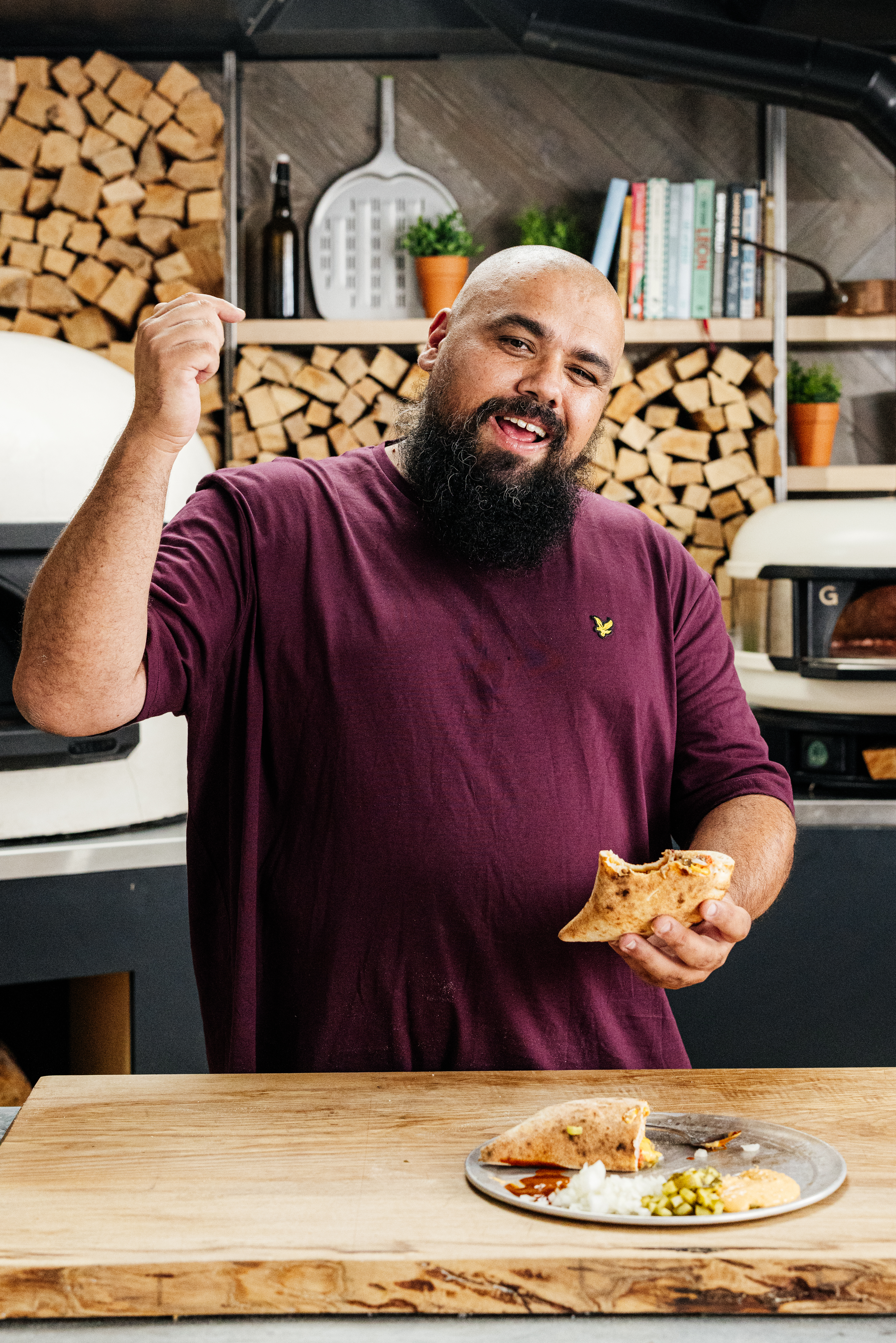 Recipe Contributor
Chris Roberts
Chris Roberts aka @flamebaster, is a legend of outdoor wood-fired cooking, proud North Walian and Gozney Ambassador. Growing up, Chris was inspired by his father to create incredible food and bring people together. Fronting his own TV show, Bwyd Epic Chris (Chris' Epic Food), Chris has become a national hit, and the big man's appetite for sizzling flavours and loveable personality is why we adore him so much at Gozney.