Chicken Doner Kebab Pizza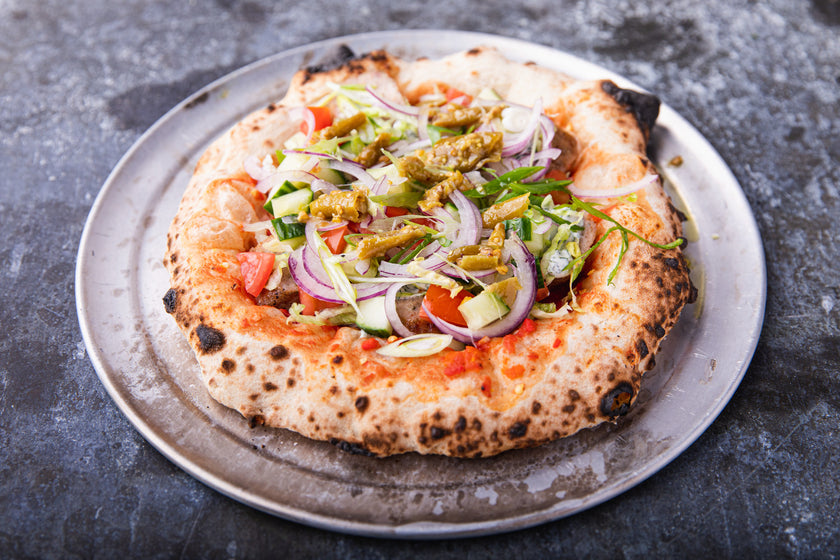 Our favourite Brummie @chefbradcarter has reinvented the classic kebab with quality chicken, salad and tangy yoghurt on pizza
Brad started One Star Döner Bar as a takeaway business, when his main Michelin star restaurant was forced to close during lockdown.
Inspired by eating kebabs served by street food traders in Berlin. His kebabs are a gourmet take on a take-out classic.
Ingredients
1 Neapolitan style dough ball
1kg/2.2lb chicken thighs, minced 3 times

20g salt/0.7oz

5g/0.2oz garlic powder

4g/0.1oz onion powder

2g/0.07oz allepo chilli flakes

2g /0.09oz dried oregano

2g/0.07oz ground white pepper

30g/1.1oz ice water

2 large skewers
5 red chillies

Tin of San Marzano tomatoes

100ml/3.5floz honey

75ml/2.5floz red wine vinegar

2 cloves garlic

Salt
250g/8.8oz natural yoghurt

40g/1.4oz mint leaves

40g/ 1.4oz coriander leaves

Salt & black pepper
1 cucumber, diced

2 salad tomatoes, diced & de seeded

1 red onion, thinly sliced

1/2 iceberg lettuce, thinly sliced

4 spring onions, thinly sliced

4 whole pickled chillies
Show more
Step 1:
Mix the minced chicken with all the ingredients apart from the ice water, mix, mix & mix again. Add the meat to a cold blender & slowly add the ice water to make a paste, refrigerate for a couple of hours.
Step 2:
For the tomato hot sauce, roast the chilli's and garlic in the Gozney at around 380°C/720°F until softened, remove from the oven, cover & allow to cool.  
Step 3:
Once the chillies are cool, peel, finely chop and add to the tomatoes along with the rest of the ingredients. Mix and set aside. 
Step 4:
For the yoghurt dressing, blend the yoghurt with the mint & coriander until bright green & smooth, season with the salt & pepper & set aside.  
Step 5:
Preheat a cast iron sheet in the Gozney ready for the kebabs. Remove the chicken döner mix from the fridge & start to shape them onto the skewers, using a bowl of cold water to shape them onto the skewers. 
Step 6:
Add the skewers to the cast iron pan and grill, turning intermittently to cook evenly, around 4-5 minutes. Let the meat reach an internal temperature of 75°c/176°f. You can check this using the Gozney Dome probe.  
Step 7:
Remove the skewers & rest on a chopping board.  
Step 8:
Roll out the dough ball to a pizza then top with the tomato hot sauce, cook the pizza base for 90 seconds & remove from the oven, slice the kebabs & arrange over the pizza then top with salad, then a generous amount of the yoghurt dressing then the pickled chillies.
Time to fire up your Gozney Pizza Oven and don't forget to rate our recipe!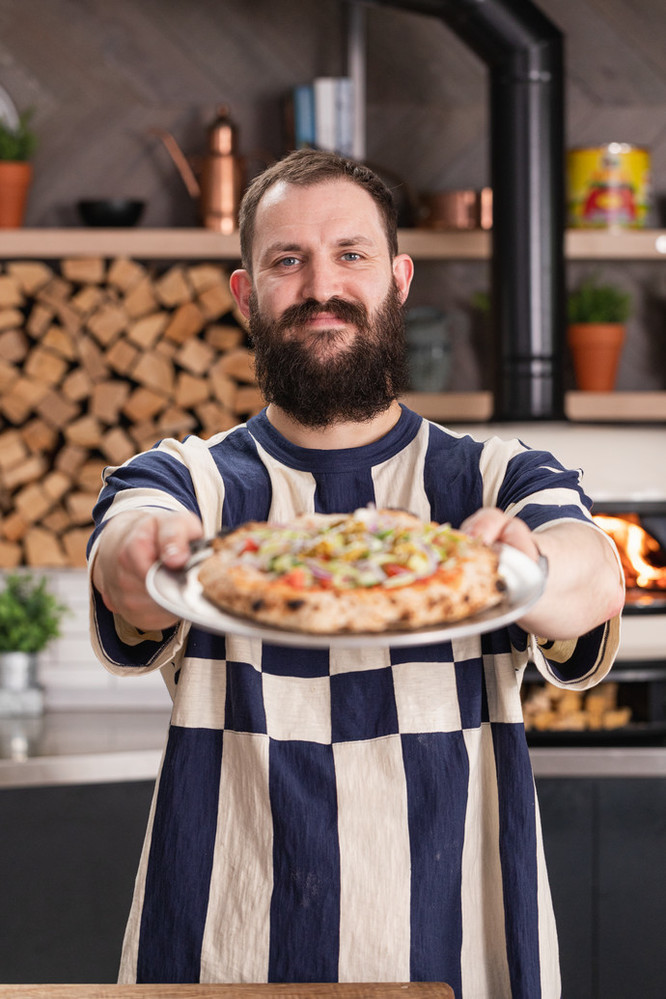 Recipe Contributor
Brummie Brad Carter
Our favourite Brummie Brad Carter is a regular in the Gozney kitchen. With a Michelin star restaurant and a Kebab shop to his name, Brad is known for creating culinary masterpieces, and turning food into art.