Chicken Adobo Recipe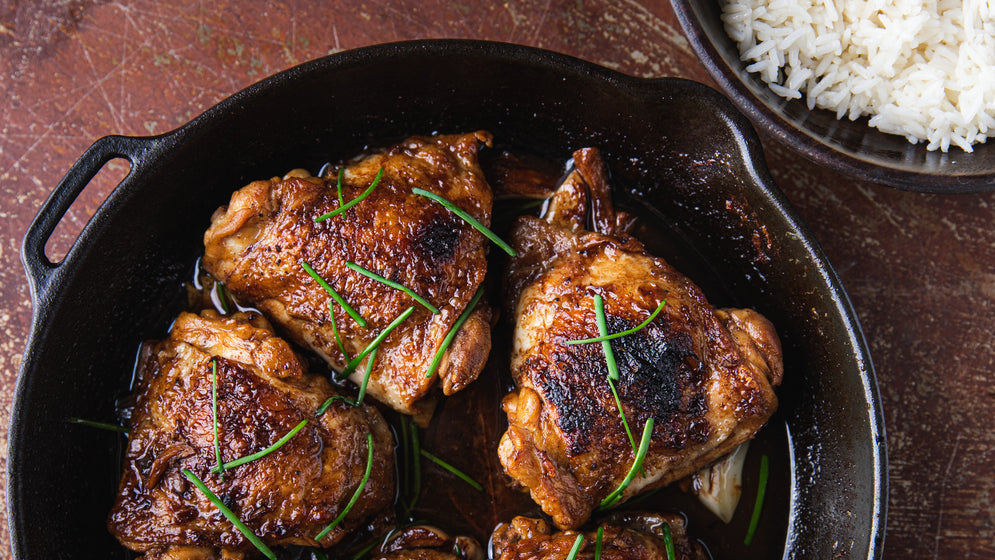 We invited Ferdinand 'Budgie' Montoya, founder of Sarap restaurants in London to Gozney HQ, to cook up some epic Filipino dishes in Roccbox. With vinegar, soy sauce, crushed garlic and bay leaves, Budgie's tasty Chicken Adobo recipe has all the flavours you need, serve it with rice and you're ready to go.
Ingredients
6 Skin/bone on chicken thighs

125ml Cane Vinegar (Datu Puti)

60 ml Soy Sauce

30 ml water

8 cloves crushed garlic
4 bay leaves

1 tbsp Vegetable oil

½ tbsp cracked black pepper

Chopped chives
Show more
Step 1:
In a bowl add the chicken, vinegar, soy sauce, garlic, bay leaves, pepper and mix together. Cover and store in a fridge and marinade overnight (min 4 hrs) but this is optional.
Step 2:
Preheat your Roccbox to 200°C, you can also add your cast iron roasting dish to heat it up.
Step 3:
Remove chicken from the marinade setting aside the marinade for later use. Pat the chicken dry.
Step 4:
When the roasting dish is hot, add the vegetable oil to the dish then add the chicken skin side down first and then place the roasting dish back in the Roccbox.
Step 5:
When the skin starts to brown, turn your chicken over and place the dish back in the Roccbox to brown.
Step 6:
When the chicken is nicely coloured, remove the dish from the Roccbox and add the leftover marinade and water. Cover the dish with lid or foil.
Step 7:
Cook in the Roccbox covered for 30 mins then remove the lid and cook uncovered for 10 mins. You can add a splash of water if it's too dry.
Step 8:
Transfer to a serving plate or serve directly from the roasting dish, finish with freshly chopped chives.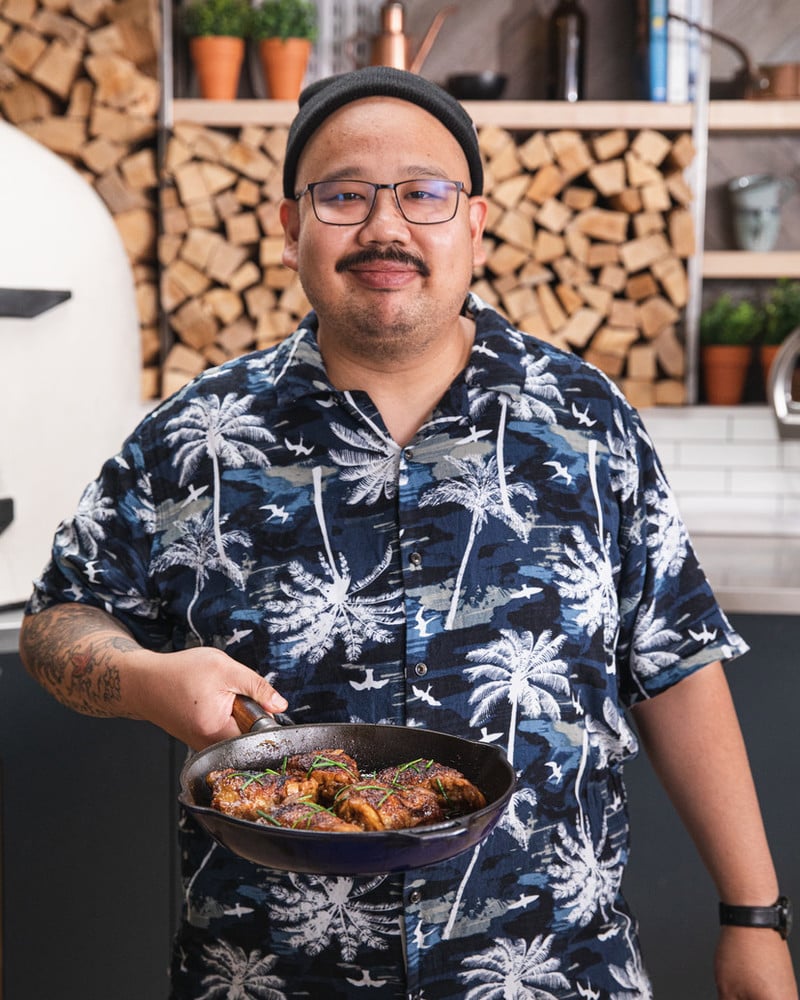 Recipe Contributor
Ferdinand 'Budgie' Montoya
Ferdinand 'Budgie' Montoya is the king of Filipino food and founder of restaurant Sarap in London, celebrating his heritage to deliver authentic flavours delivered proudly inauthentically.