Watch the YouTube video here. Mike Fitzick, aka @pizza_jew recently flew over to Gozney HQ and his star pizza was a winner with the team! This ones a little more tricky than your average pizza but is definitely worth the extra effort and is sure to be a show stopper at your next pizza party.  
Star Pizza by Mike Fitzick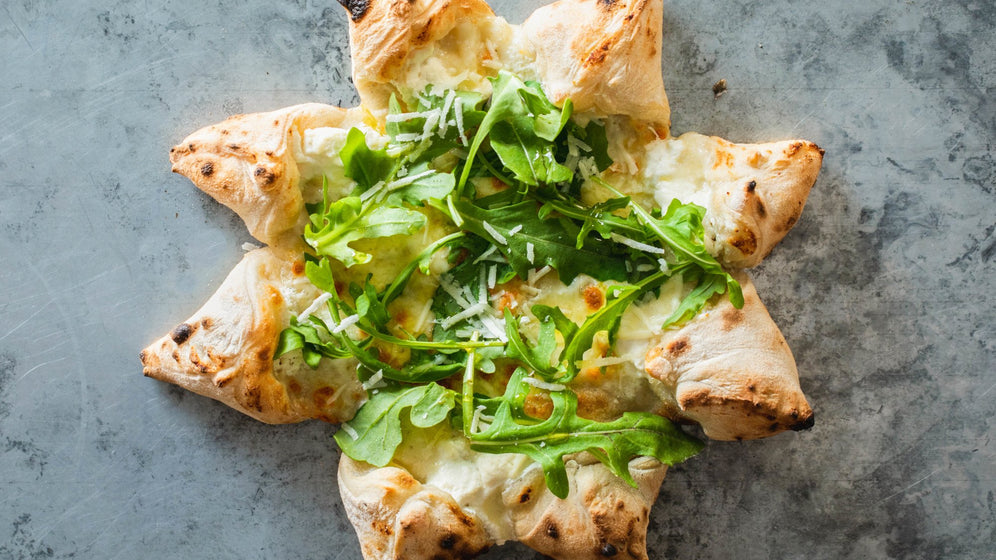 [start]
1. To prep the base for the pizza, place your dough ball onto a floured work surface and push down and out to remove all the air from the dough. This is to avoid the crust rising too much once its stuffed.
2. Once the pizza base is ready, flour your work surface liberally, take a pizza slicer and make 8 cuts around two inches into the centre of the base from the outside, at regular points.
3. In each outer section, place 1 tsp of mozzarella and 1 tsp of seasoned ricotta before folding the outer edge in together and pinching to seal.
4. Top the centre of the pizza with mozzarella before manoeuvring onto your Gozney peel and into Roccbox. Make sure your flame is on it's lowest setting for this and cook the pizza for around 3 minutes, turning regularly to ensure the pizza is evenly baked.
5. Cut into slices and top with rocket, olive oil and Pecorino Romano.
[end]
1 Dough Ball
Fresh Mozzarella
Olive Oil
Pecorino Romano
Rocket
Ricotta Cheese (seasoned)