Peanut Butter Brownies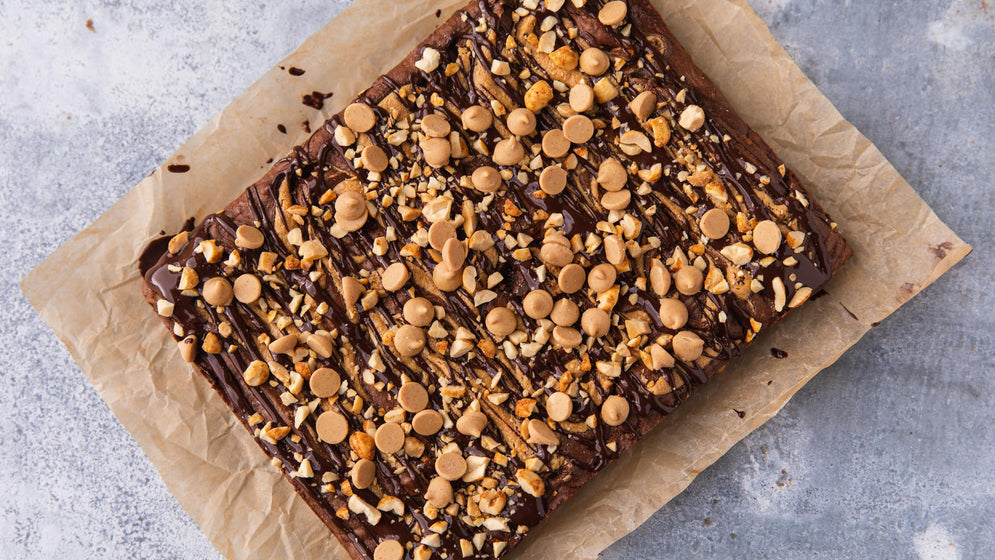 The ultimate peanut butter brownies by the queen of baking @candicebrown. Gooey and indulgent and cooked with Dome.  
Dome Bundle Link
Dome Bundle Link 1
Regular price AUD $3,277.00AUD $2,999.00
Pizza Server Link
Pizza Server Link 1
Regular price AUD $69.00Prices from AUD $55.20
Infrared Thermometer Link
Infrared Thermometer Link 1
Regular price AUD $69.00AUD $55.00
Ingredients
200g/ 7 Oz crunchy peanut butter (-no palm oil)
175g / 6 Oz dark chocolate (minimum 70% cocoa solids)
100g / 3.5 Oz light soft brown sugar
25g / 0.8 Oz unsalted butter
50g/ 1.7 Oz peanut butter- softened
50g/ 1.7 Oz dark chocolate melted
50g/ 1.7 Oz Dry Roasted peanuts chopped
Show more
Step 1:
Put 200g/ 7 Oz of the peanut butter, the chocolate, sugar and butter into a medium-sized saucepan over a low/medium heat on a hob, and stir until everything is mixed and the sugar has almost completely dissolved.  
Step 2:
Remove from the heat and allow to cool slightly, then add the eggs one at a time, mixing well in between each addition. The mix will be glossy after the eggs have been added. Sift the flour over the chocolate mix and stir in. Pour the brownie mixture into the prepared tin.   
Step 3:
Heat the remaining 50g/ 1.7 Oz peanut butter in a small pan until warm and runny, then drizzle over the brownie mix. Using a sharp knife, swirl the top to make lovely swirls of peanut butter. 
Step 4:
Place in the Gozney Dome at 275°C/ 527°C for 4-6 minutes (for one large tray) or about 6-7 minutes in a small skillet pan with 175g brownie mix. Cover with foil when the top starts to brown too much.  
Step 5:
Remove brownie from the Dome and allow to cool. Once cooler, gently lift out the tray.  
Step 6:
Melt the chocolate in a Bain Marie (a bowl over boiling water). Drizzle the melted chocolate in lines across the brownie. Chop and sprinkle the peanuts.  
Step 7:
Serve and enjoy! 
Recipe Contributor
Candice Brown
Candice Brown (@candicebrown) is a Great British Bake Off Winner, successful pub owner, author, mental health campaigner, and cook. Yep, she does it all. Candice describes cooking as a process she loves from start to finish, creating hearty, home-cooked recipes, especially in her book 'Happy Cooking'.