Lamb Kofte (Köfte) Recipe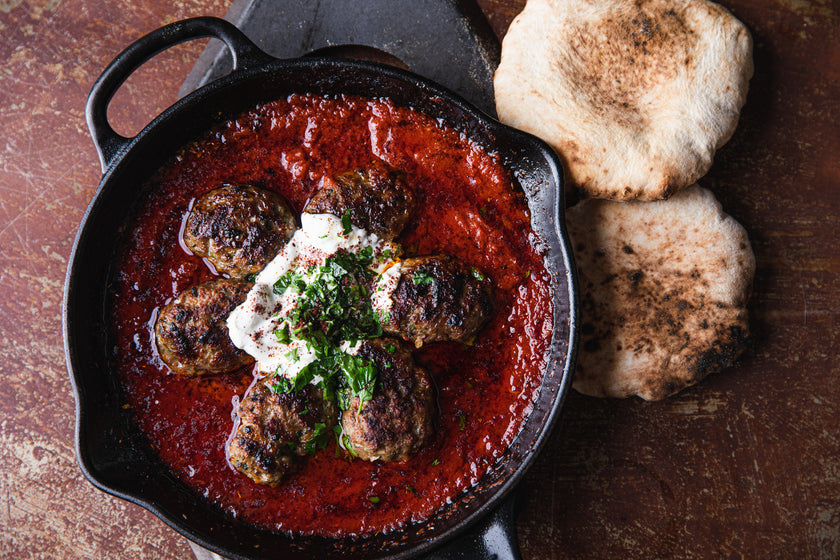 Selin Kiazim's Lamb Köfte recipe with spicy tomato sauce and flatbreads is the perfect marriage of flavours and everything you need.
Ingredients
12g Fresh yeast or 7g sachet of dried instant yeast 

1 tbsp extra virgin olive oil 

1 tsp fine salt 

1 tsp caster sugar 

340ml - 360ml approx. luke warm water 
500g best quality lamb or mutton mince (minimum 30% fat)

50g parsley, very finely chopped

1 small or ½ large onion, very finely chopped
100g unsalted butter

350g passata
1 heaped tbsp tomato paste

3 cloves garlic, finely sliced

2 pinches dried oregano

2-3 pinches Turkish chilli flakes (pul biber)

Pinch sugar
Small splash sherry vinegar

Fine salt
A little parsley chopped

Sprinkling of sumac

2 tbsp brown butter
Show more
Step 1:
For the flatbreads, add the flour, yeast, oil, salt and sugar into a mixer and mix on a slow speed for 5-10 mins. Remove from the mixer and roll into a sausage shape.
Step 2:
Divide the dough into 100g pieces and ball them up, put them on a tray and cover. Leave the dough to proof in the fridge overnight.
Step 3:
For the köfte, combine the mince, parsley and onion in a large bowl and season generously with salt. Using your hands give the ingredients a really good mix. You almost want to treat it like you are kneading a dough. It's important to really work it to activate the protein so the köfte hold their shape. Take a little of the mix and cook some to ensure you're happy with the seasoning.
Step 4:
Divide the mix into the size of a golf balls. Roll each ball tightly to form a tight ball and then pat out into an oval shape.
Step 5:
Place the patties onto a tray and preferably chill for an hour at least before cooking so they firm up.
Step 6:
To make the tomato sauce, melt the butter in a pan and add in garlic. Cook until it starts to turn golden brown then add in oregano and tomato paste and cook for 1 minute. Add the passata, chilli and season with fine sea salt. Cook for approx. 15mins or until reduced a little. Finish with sugar and vinegar and salt to taste, then set aside.
Step 7:
Load your köfte patties onto a cast iron pan and cook in your Gozney oven at 300°C, turning them around halfway through. Add your köfte patties to your tomato sauce and set aside.
Step 8:
Shape your flatbread dough into round shapes and roll them out to 6/7mm thickness. Next cook in your Gozney Roccbox or Dome at around 400°C. Flip it over to colour on both sides.
Step 9:
Pop your pan with köftes and tomato sauce back in the oven for 1 minute to reheat.
Step 10:
Finish with some dollops of thick yoghurt, parsley, sumac and brown butter. Serve with your flatbreads and enjoy!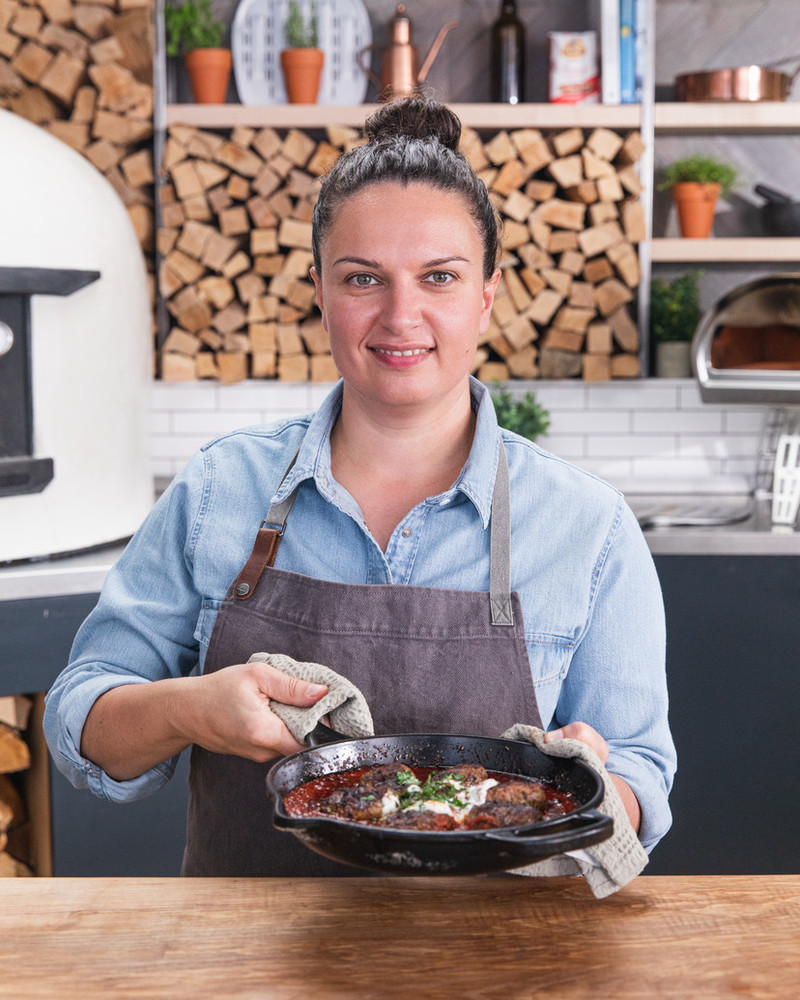 Recipe Contributor
Selin Kiazim
Selin is a genius in the kitchen and founder of the hugely popular restaurant Oklava in London, bringing people epic dishes inspired by her Turkish Cypriot roots.