Hoppers Lamb Chops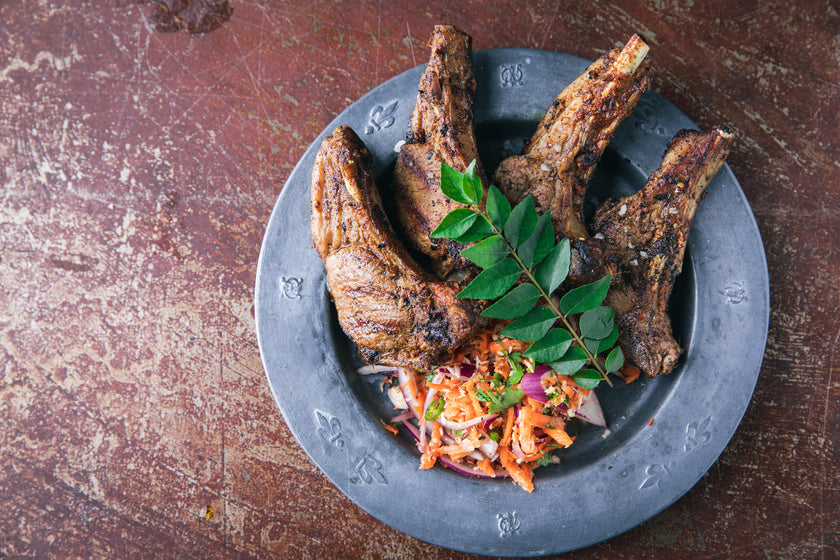 The king of flavour, Karan Gokani, teaches us how to make the best lamb chops you'll ever taste, with his recipe from the popular Sri Lankan restaurant Hoppers. Fired up in your Gozney outdoor oven and finished with a carrot and coriander sambal, it's got everything you need.
Ingredients
4 lamb cutlets, skin removed

1/2 tbsp garlic paste

1/2 tbsp ginger paste

1⁄4 tsp ground turmeric

1 stick lemongrass

1 sprig fresh curry leaves

1 tbsp Jaffna curry powder (you could use Madras Curry Powder if you can't find this)

1⁄2 tsp chilli flakes (optional)

1⁄2 lime, juiced

2 tbsp rapeseed or vegetable oil

½ tsp sea salt, plus more to serve
For the Carrot and Coriander Sambal
½ tsp black peppercorns

1 tbsp Maldive fish flakes (or 1 tsp Thai fish sauce)

½ tbsp red chilli flakes

¾ tsp salt
½ medium red onion, finely sliced

½ lime, juiced

1 small carrot, thickly grated

1 tbsp fresh coconut, grated 

1 green chilli, finely chopped
2 tbsp coriander leaves, roughly chopped
Show more
Step 1:
Peel the outer huskier layers of the lemongrass and cut the remaining stem up into small pieces. Then place in a pestle and mortar along with the curry leaves, chilli flakes, garlic and ginger and pound into a course paste.
Step 2:
Add the remaining ingredients (except the cutlets) and mix everything well.
Step 3:
Rub the marinade all over the cutlets and keep refrigerated for 3-24 hours.
Step 4:
Preheat a heavy cast iron griddle pan in the Roccbox for about 10 minutes to about 250°C. Then reduce the flame setting to minimum. Pull the pan out using oven mitts and place the cutlets on it. Place back in the Roccbox for 2 minutes. Remove the pan and flip the cutlets over. Cook for a further 2-3 minutes.
Step 5:
Remove and rest the cutlets on a plate or board for 5 minutes. Garnish with curry leaves and sprinkle over some sea salt before serving alongside some carrot and coriander sambal.
Step 6:
To make the carrot and coriander sambal, crush the black peppercorns, Maldive fish, red chilli flakes and sea salt in a pestle and mortar.
Step 7:
Add the lime juice and mix well to create a dressing.
Step 8:
Mix the remaining ingredients together and pour as much of the dressing over as you like.
Step 9:
Taste for seasoning and serve straight away.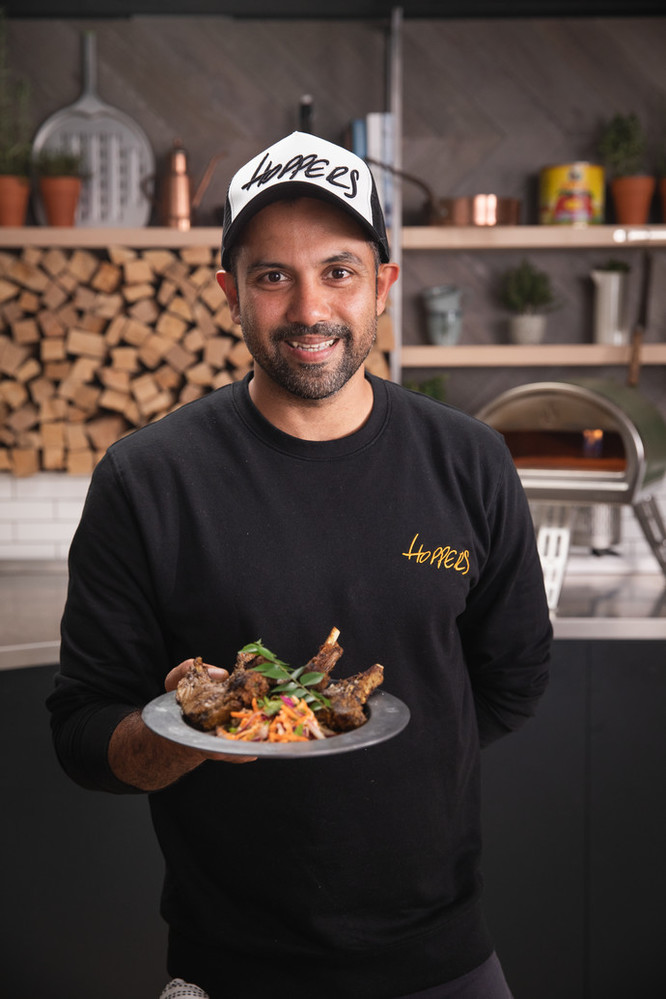 Recipe Contributor
Karan Gokani
Karan Gokani, founder of popular London restaurant group Hoppers knows how to bring all the right flavours together to create outrageously delicious recipes.