Halloween Pizza Recipe | Gozney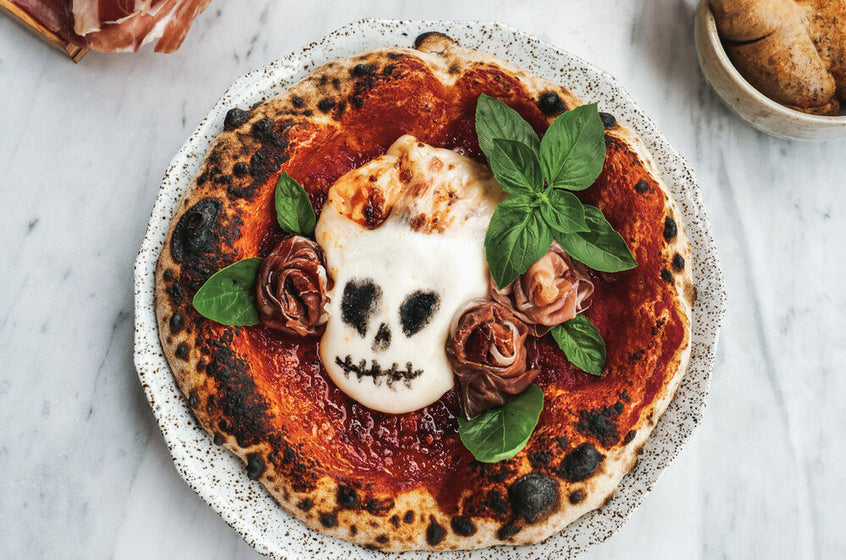 This Halloween, Feng Chen aka @leopardcrust has outdone herself by creating a gruesome looking pizza with a burrata skull and exploding brains using chilli oil and tomato sauce, decorated with roses made from prosciutto crudo and basil. Get your Halloween party started (and freak your guests out) with this spooky pizza recipe.
Step 1:
Preheat your Gozney Roccbox or Gozney Dome to 400°C.
Step 2:
Heat up a pan of water to 85°C or bring the water to boil and allow to cool for 2-3 minutes. Place your mozzarella chunks into a heat safe bowl and pour over the hot water until submerged and leave for 1 minute. Meanwhile, prepare an ice bath in the second heat safe bowl and a small bowl of cream.
Step 3:
Use a spatula to press the mozzarella chunks in the hot water to form a single blob. Once all the mozzarella chunks have combined, lift the mozzarella with a spatula, and stretch until smooth.
Step 4:
Tear a golf-ball sized chunk of mozzarella and place into the bowl of cream. Leave the remainder in the hot water. Start shredding the mozzarella into rags to make Stracciatella cheese.
Step 5:
Mix tomato sauce into the Stracciatella cheese, until desired 'brain' colour is achieved.
Step 6:
Prepare the skull wrapper by pressing the remaining mozzarella mass into a flat disc. You can leave the centre thicker to prevent tearing or create a thin spot to make the skull look like it's spilling its brains.
Step 7:
Place the chilli oil and tomato-Stracciatella cheese into the centre of the wrapper and work quickly to gather and close the edges of the wrapper to form a pouch. Ensure the pouch is sealed by pressing the edges together in the water (which should now be lukewarm). Take care not to burn your hand at this step.
Step 8:
Mould the sealed pouch into a skull shape, and then use your fingertips to make eye socket shaped indents. Next, dip your fingertips into the squid ink and use to colour the eye sockets black. Then dip the end of a chopstick into the squid ink to draw on the nose and mouth.
Step 9:
Open up your pizza dough of choice (simple dough recipe). Load up the base with tomato sauce and then scatter Grana Padano, nduja and olive oil over the pizza.
Step 10:
Bake the pizza at 400°C. in your Gozney Roccbox or Gozney Dome for 60-90 seconds, rotating regularly to cook on all sides.
Step 11:
Once cooked, allow the centre of the pizza to cool until it is warm to touch before transferring your skull-pted mozzarella to the centre. Roll the prosciutto crudo into rose shapes and add to the pizza along with basil for the rose leaves, have a laugh at what you've made and enjoy!
For the mozzarella skull-pture
180g low moisture mozzarella, cut into 1x3cm chunks
30g double cream
Tbsp Tomato sauce
Salt
Tsp Chilli oil
Water
Ice
Tbsp squid ink
For the pizza
250g pizza dough ball
Tomato sauce
Grana Padano
Nduja
Extra virgin olive oil
Prosciutto crudo
Basil
Equipment:
2 heat safe bowls
Spatula
Chopstick