Asparagus season is brief but delicious! Make the most of it with this super simple pizza that's packed full of salty umami goodness – you can even pop an egg in the centre if you're feeling adventurous…
Asparagus & Crispy Ham Pizza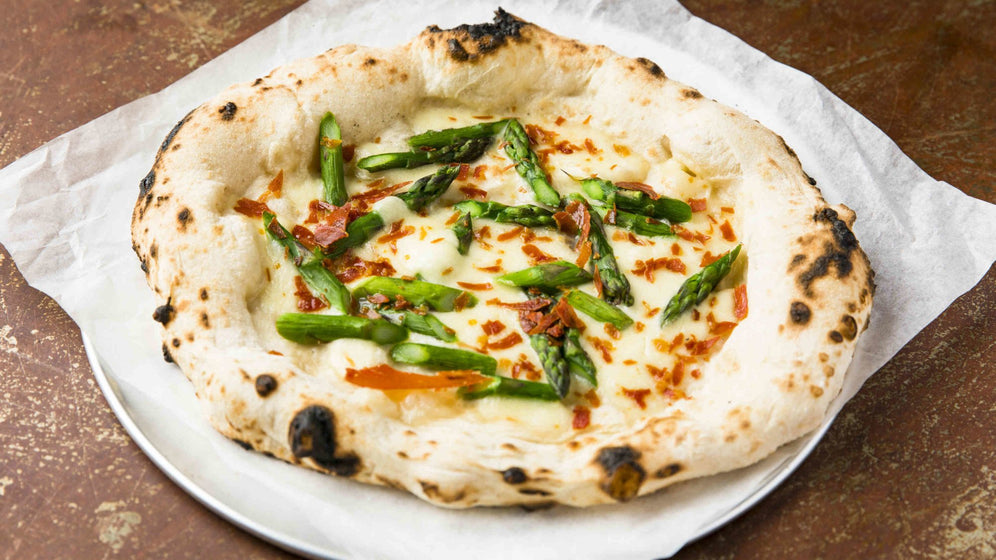 Step 1;
Preheat your conventional oven to 190°C and get yourself 2 baking trays of the same size.
Step 2;
Lay the slices of ham on a baking tray lined with grease proof paper and put another layer of grease proof paper on top. Put the second tray on top and pop the tray in the oven for 15-18 minutes or until the ham is crispy.
Step 3;
Remove the top tray and top layer of grease proof paper and gently remove the crispy ham slices and leave on kitchen towel until required.
Step 4;
Bring a pan of salted water to the boil and cook the asparagus for 2-3 minutes plunging into ice water. Once cool, remove the asparagus from the water and cut each spear into 3 pieces. Set to one side.
Step 5;
Once Roccbox is hot, open your dough ball into a pizza skin and top each base with half the mozzarella, half the asparagus and half the Parmesan. Bake for 90 seconds.
Step 6;
As soon as the pizza comes out of the oven crunch 2 crispy slices of the ham over each pizza.
2 Pizza Dough Balls
1 Ball Mozzarella
1 Bunch Asparagus
4 Slices Parm Ham
20g Grated Parmesan